So I have Chaotic as a saved search in my eBay page, and a few days ago a listing for a small bunch of Premium Packs popped up in my inbox.
http://www.ebay.co.uk/itm/CHAOTIC-TCG-PREMIUM-EDITION-SEASON-1-LOT-OF-7-BOOSTER-PACKS-NEW-amp-SEALED-/351790319222?&_trksid=p2056016.l4276
.
Now normally when listings for Chaotic stuff from my country that isn't usually seen for sale in my country gets me excited (I was delighted when a random mixed lot of 50 boosters arrived last week and it unexpectedly included 9 Alliances Unraveled boosters!). But the price of these Premium Packs makes me baulk a bit. 35 English pounds for 7 packs? I appreciate they are all foils, but I'm not sure if they are worth getting at that price, especially considering I probably have over half the Supers and Ultras from DoP to SS, many in multiples and all first editions. Could be nice for their novelty value and to have a more complete collection but these things are really hard to find in the UK...
Also, I got an Iron Pillar in a trade on TCO the other day (it came from Canada), but it's foil seems different to the regular holos. It's holo is like a "pillars of light" or maybe even a ripple pattern. Is this a premium foil card (it doesn't look like gold foil to me) or something quite different?
Here's a picture of it, next to a first edition Stone Pillar for comparison: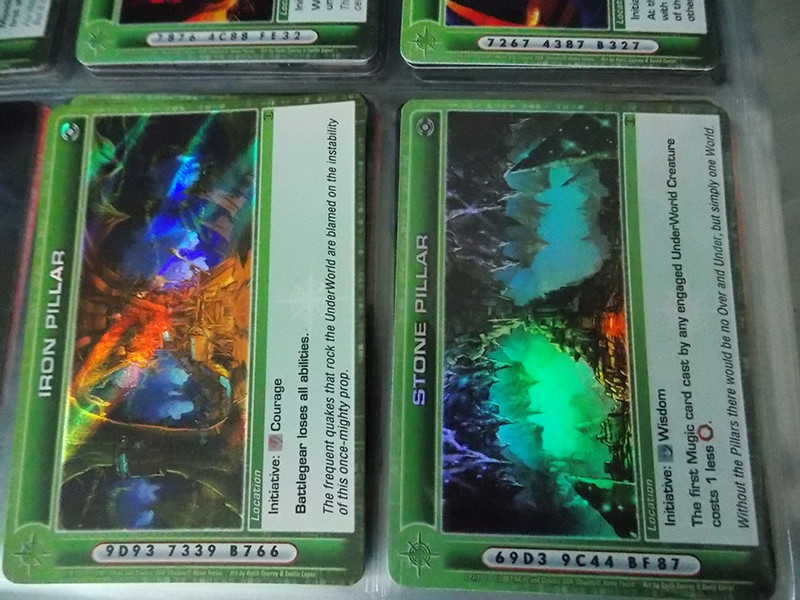 Thoughts?