found this a couple days ago and I like to share it.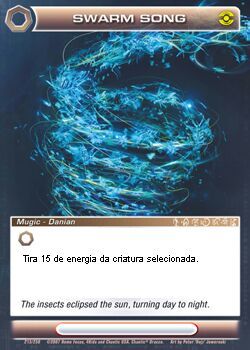 The translation is something like... "target creature loses 15 energy" I THINK
I'm fairly confident it is or rather was a real card. The middle text is a bit off putting but the site I got it from had several official cards that had been similarly altered so that alone isn't enough to discount it.
the main reason I'm confident  is the overall quality, the every part of it matches the look of an offical chaotic card and while I can't completely discont that this is photo shoped they did an excellent job. the excluding the middle part the font seems on point the infromation matches DoP set numbers and time of realse. the artist is even the same one as the very simaler looking chorus of the hive and the mugic notes are all completely different to any other danain mugic.
that's enough to make me belive it was a real card at somepoint that got cut from the set. its rarity and set number make me think it was probably cut out in exchange for song of symmetry in order to split apart the Danains and the UW more.
that's just a theory though so let me know what you think